Event Details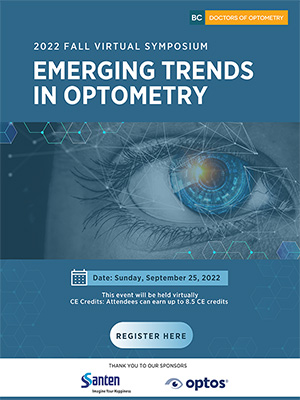 BCDO Fall Virtual Symposium: Emerging Trends in Optometry
Date: Sunday, September 25, 2022
CE Credits: Attendees can earn up to 8.5 CE credits
Cost: $100.00
Join us for the 2022 BCDO Fall Symposium Virtual Conference!
This virtual conference will feature engaging CE sessions on ocular disease including discussions on retina, OCT interpretation, macular degeneration, and more.
For more information and to register, please visit the Fall Virtual Symposium website.
If you have any questions regarding the Fall Virtual Symposium, please feel free to contact BCDO at conference@optometrists.bc.ca. We look forward to seeing you there!
This event is supported by unrestricted education grants from Optos and Santen Canada.