2019 Exhibitors
Sponsor
Organization
Booth #
Diamond
ALCON
Alcon Surgical
21/22/35/36
3/20
Platinum
XIIDRA
EyeLove<
37
7
Platinum
Labtician Théa
24/33
Platinum
Carl Zeiss Canada Ltd.
32/25
Gold
Allergan
42
Gold
Bausch & Lomb
30/27
Gold
Coopervision
8/15
Gold
I-MED Pharma
26/31
Gold
Luxottica
34
Silver
Centennial Optical
16/17
Silver
Johnson & Johnson
4/5
Bronze
HOYA
2
Bronze
TD Bank
53
Band
FYI Doctors
54
Band
Macuhealth
11
 
20/20 Accessory Source Ltd
1
 
Alternative & Plan "B" Eyewear
29
 
Asahi-Lite
B
 
Axis Medical
13/14
 
Canadian Associationof Optometrists (CAO)
table
 
Canadian Optometric Education Trust Fund (COETF)
table
 
Canadian Vision Care
table
 
Candorvision (a division of Candorpharm Inc.)
28
 
Canon Canada Inc
57
 
Clarion Medical Technologies
23
 
COVD Canada
A
 
COVT&R
table
 
CWB National Leasing
49
 
Eschenbach Optik
47
 
Eye Designs, LLC
C
 
EYE RECOMMEND
59
 
Eye-revive
58
 
Hilco Vision
50
 
imatrix
41
 
INNOVA
44/45
 
IRIS The Visual Group
55/56
 
Lasik MD
43
 
MODO
40
 
Nikon Optical Canada Inc.
52
 
NutraSea Professional
12
 
OCULUS Canada Holding, Inc.
48
 
Optik K & R Inc
10
 
Optometric Services Inc
D
 
Optometry Giving Sight
table
 
Optos, Inc.
60/61
 
ProMed Eye Health
19
 
Sacor Inc.
F
 
Salient Medical Solutions
6
 
Specsy
G
 
The Personal Insurance
51
 
Topcon Canada Inc.
38/39
 
UWaterloo School of Optometry and Vision Science
table
 
Visual Eyes
18
 
Westgroupe
9
 
Zilla
E
2019 Exhibitor Floor Plan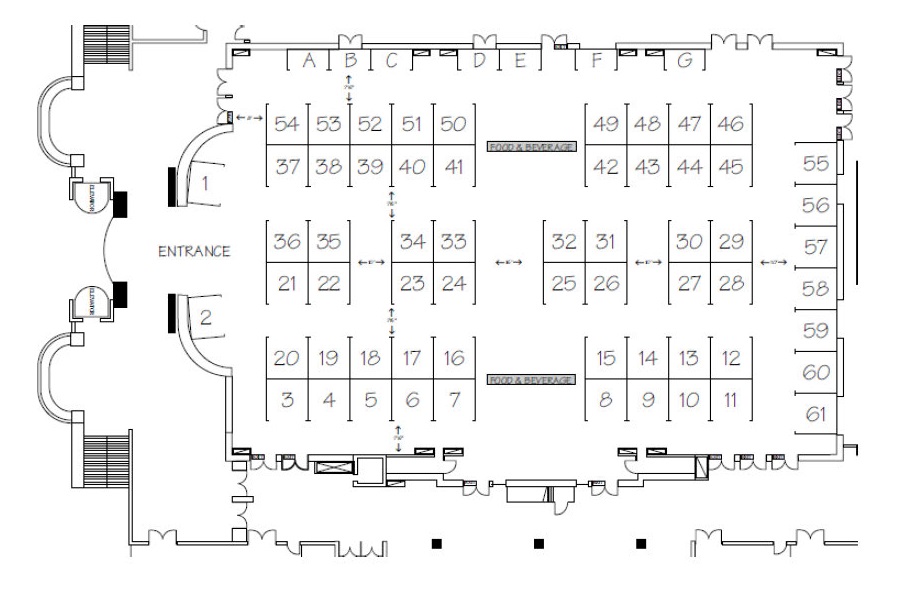 Why Exhibit?
350+
Exposure to over 350 delegates from across Canada and the United States
70%
Seventy per cent of our delegates are practice owners or decision makers
3.5
Three-and-a-half hours of dedicated trade show time to network with delegates
Optofair is currently sold out, but we are accepting applications on a WAITLIST basis and will make every attempt to accommodate interest. Please complete the application to be considered for the waitlist.
Exhibitor Fees
Purchase
1-3 Booths
After February 1, 2019
$2,100
Purchase
4-6 Booths
Discount per booth
25%
Purchase
7-9 Booths
Discount per booth
40%
OPTOFAIR fees do not include access to other Congress events. However, exhibitors are encouraged to register and participate in the social events (Wednesday's Welcome Reception and Saturday's President's Party), which provide ideal opportunities for networking. Access to CE sessions and functions of the Biennial Congress is restricted to members of the Association, their staff, or guests of the Association. There are also sponsorship opportunities to further raise your profile.
The Victoria Conference Centre
The Victoria Conference Centre (VCC) contributes to the local community by attracting business and economic wealth, supplying excellent conference services and providing sustainable, energy-efficient facilities.
Located on First Nations land, the VCC's logo represents its mission. The image of three salmon heads, created by First Nations artist Chris Paul, celebrates sacred aboriginal iconology and represents people from across the world coming together.
Accomodations
Information on accomodations and travel can be found HERE